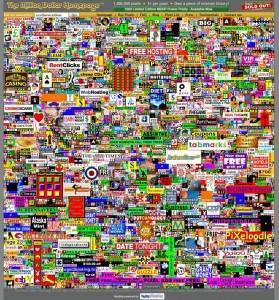 The Million Dollar Homepage was launched by Alex Tew in 2005 with a unique idea, it was literally a 1000px*1000px digital billboard with multiple small banners. Each pixel on the page was worth $1 USD in 10px*10px blocks which can be used by the buyer to post image and a back-link to advertised site.
In nearly 4 months all spots in The Million Dollar Homepage were sold making over a million dollars forAlex Tew. 🙂
Now, there are sites at that time who purchased advertisement location on The Million Dollar Homepage, but few of those domains have expired. Here is the list of domains still listed on The Million Dollar Homepage and the domains have expired.
googapixels.com
ltd-realestate-investment.com
mahuang4weightloss.com
adakelly.com
arleenllewellyn.com
baby-million-dollar.com
bigdixbrand.com
bracelets-by-rd-designs.com
buy-email-mailing-list.net
corpdesignconsultancy.net
digden.net
digital-legacy-productions.com
discoverasyoulikeit.com
easymon1.com
ezweb-uk.net
fantasyfootballinfo.org
gold-cosmetics.com
goodhealthwealthandhappiness.com
knuckleballsoup.com
mamboip.com
mandalina-online.com
million-dollar-health-page.com
milliondollarbackpage.com
milliondollarfrontpage.com
millionpixeleuro.com
motopixelpage.com
niftycash.net
no1rentacar.com
pixels4all.com
secure-mind.com
snipproductions.com
spreadjerrypaul.com
sw2it.com
ten-best-credit-cards.com
texpixad.com
theinsult-a-gram.com
theipodshop.net
theukmillionpoundhomepage.com
tomtomtucker.com
tradersatebay.com
ubccustom.com
wealth4living.net
webmonitorxp.com
yeyerecommends.com
googamillions.com
themilliondollarfrontpage.com
Hurry up, you can still own a place in the history of the Internet.